What is the Fine Art Portrait Experience?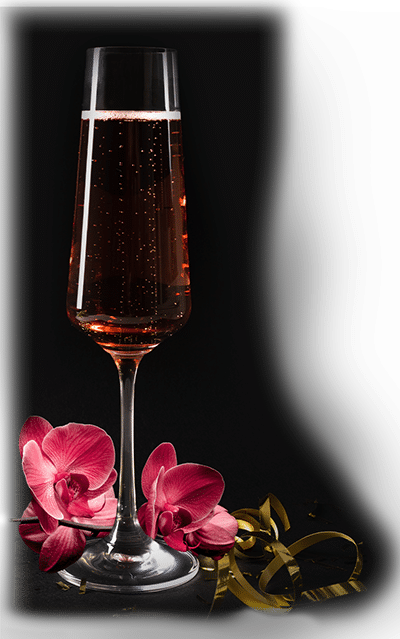 It's a special, customized session that's made just for you! And it's more than just pictures, it's truly an experience — an experience that's made just for our more discerning clientele!
This is an idea inspired by the process of a bride on her wedding day. Think of her getting ready for her day – with hair, makeup, music, wine (or sparkling cider), flowers, friends, and fun!
Well, that's how this experience works, only you don't have to get married to experience it. When you come in you'll be greeted by a member of our team who will take your coat and show you to your chair. Then she'll bring your satin robe to wear while you're getting your hair and makeup done by a professional stylist. Your music will be playing, and your assistant will bring to you your favorite drink. And, be sure to bring a friend (or two) to share in the fun.
You'll be comfortable with your outfit choices for the day because we've arranged a fashion stylist to work with you prior to your session. It's all about you!
Also, during the process, we'll be working with you to explain the photo shoot and what we want to create. Ultimately, we want to create a portrait of you that shows your confidence, your character, your wisdom, your personality, and your beauty — and showcase it all in a portrait that is timeless, elegant, and classy. We'll use that portrait to make a framed, museum quality print, either on top-quality canvas or premium fine art photographic paper, to be displayed on a wall for generations to come! And, of course, you'll get all the pictures from your photo shoot, but we'll also give you a video slideshow that we make from the snapshots and little video snippets taken throughout your entire session, to help you remember the day!
Every Fine Art Experience session is custom made to include what you want, and none of what you don't. So this isn't a book-it-and-forget-it kind of thing. We need to talk to you and plan your session. You can plan it for yourself, or you can plan it for someone else and surprise them with it. And don't worry, we can keep a secret.
And on that topic, we see great gift opportunities in this, whether you want to gift your partner with the experience, or you want to gift them with the elegant wall portrait to hang on their wall. And for times when you want to book a session now, but need something tangible to hand them as a gift, we would put together an elegant wooden gift box that would include a certificate to show just what you're giving, and some other surprises as well.
These sessions are all luxury packages but the first level is actually called the Luxury Package. That one starts at $500 and can go to $1500, depending on what you want.
The next level is the Premium Package! that one starts at $1500 and goes up to $2500, again, depending on your choices.
And the highest level is the Ultimate Package! This one starts at $2500 and can include things like limo transportation, dinner, and even hotel stays after the session. It's all about you!
We know these packages aren't for just anyone, but that's the whole point, and that's why they're special. They're designed for those who appreciate quality, class, and the finer things in life.
And, lastly, we wanted to make it easier for you to pay. You can book a session on our site, but since these sessions will take some time for planning, you can break your balance into several payments, if you'd like. That part of the process is also customized to what works for you, and we'll help you plan it to make it happen!
---
If you have questions or want to talk about planning a session, you can reach us here. Or, select your session and lock in a date with the booking form below!
A scheduling fee of $100 is required at the time of booking to hold the date. This is not an additional fee and will be deducted from your total. The balance is then due on or before the date of the service.
Thank You!